The real estate market has seen a
fluctuation in housing prices
over the last several years. Homes are being sold above the asking price, and buyers are waiving inspections and buying homes sight unseen to ensure they secure the best Avon homes for sale.
Fortunately, you don't always have to dish out extra money or lower your standards to convince a seller to go with your offer. You can submit a well-written offer letter with your competitive bid to persuade the seller to choose you over your competitors.
This post will explain what an offer letter is, why you may want to send one, and any legal considerations to review. We will then discuss how to write a winning offer letter to secure your
Vail real estate
.
Everything you need to know about Vail real estate offer letters
What an offer letter is (and why you should send one)
In real estate, an offer letter is a letter written by a buyer to the home seller. This letter tells the seller who you are, why you're interested in their home, and why they should choose your offer over others.

Writing an offer letter helps personalize your bid and lets the seller gain insight into your character. An offer letter shouldn't include too much financial data; it's about establishing an emotional connection with the seller.

During real estate transactions, buyers are typically just a number on paper. While a solid offer is essential, an offer letter can help two similar offers stand apart. A personalized letter helps create an emotional tie and convince sellers to choose your offer over those of a similar caliber.

Legal considerations to keep in mind
Several areas have banned the inclusion of offer letters to avoid potentially violating the
Fair Housing Act
. The Fair Housing Act protects people from discrimination when engaging in housing-related activities, such as buying or renting a home, seeking housing assistance, and applying for a mortgage. This law prevents discrimination based on religion, color, family status, disability, race, national origin, religion, sexual orientation, and gender identity.
In your search for Vail real estate, you may want to submit an offer letter containing a family photo and disclose information about your religion. Unfortunately, whether or not these are deciding factors, outside individuals may perceive this letter as an integral factor in the final decision.
The seller is now open to a potential lawsuit by simply considering your offer. This could also mean your realtor and the seller's realtor could be penalized by the
National Association of Realtors (NAR)
. Be sure to avoid any mention of potentially inappropriate content.
How to write a winning offer letter
When used appropriately, including an offer letter in your bid can help sway the decision in your favor. Let's discuss a few tips for writing a winning offer letter.

Keep it short
The letter's length is important and should be no longer than one page. Anything longer may be perceived as insincere or pushy, and the seller may decide not to read it because it's too long. Keeping it short, sweet, and to the point will encourage the seller to read your letter all the way through and potentially choose your bid.

Personalize it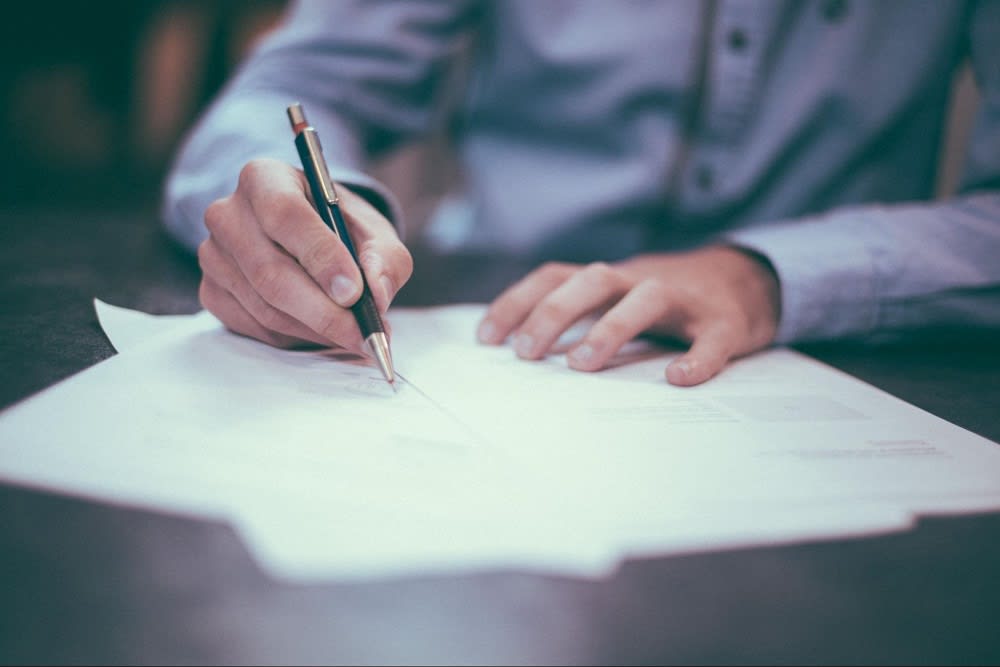 Offer letters are meant to be personal and resonate with the reader. Start the letter by directly addressing the seller by name. Your real estate agent should be able to help you find this information.
Instead of vague greetings, such as "Dear Seller" and "To whom it may concern," consider writing "Dear Mr. and Mrs. Smith" or "Dear James and Lisa." Direct writing will add warmth to your letter and help the interaction feel more personal than transactional. It's also meaningful to handwrite the letter on a piece of quality stationery to show the seller that the offer is important to you and not just a business deal.

Share a few details about yourself
Your offer letter should include a brief summary of who you are and what you like to do. If possible, mention similarities between you and the seller.

It may be tricky to find common ground when homes are typically staged. However, you can still look for personal touches in and around the house. If you see a garden, consider mentioning your love for gardening and your excitement to plant annuals in the spring. You can briefly mention why you are searching for Vail real estate and what makes the area special to you.

Highlight what you like about the home
Sellers take pride in renovating, staging, and decorating their luxury homes. These noticeable features should be included in your offer letter. What are some specific attributes you like about the home? In what ways does it stand out from other Vail homes for sale? For instance, if you like the kitchen, explain why it fits your needs and mention a few signature dishes that you plan to cook using their beautiful appliances.

Outlining why you love the home is an essential component of your offer letter. After all, these are probably the details the seller loves too. Refrain from mentioning anything you don't like or want to change about the house, as this may be insulting.
Ready to search for Vail real estate?
Being a buyer in a seller's market means you need to be strategic. Writing a unique and heartfelt offer letter to accompany your bid can help you stand out from the other buyers and build an emotional connection with the seller.
Be sure to keep it short, personally greet the seller in your letter, share a few details about yourself, and highlight what you like about the home. Avoid sharing too much personal information, such as race, religious affiliation, and political beliefs, as this can violate fair housing standards.
When you're ready to start your search for Avon homes for sale, reach out to local agent
Caroline Wagner
to speak with a knowledgeable agent. Caroline can guide you on the best practices for writing a winning offer letter to land you the luxury home of your dreams.