Nestled at the bottom of Vail mountain, the town of Vail gives you a close encounter with nature that is hard to find elsewhere. From skiing in the winter to mountain biking in the summer, something exciting is always happening year round here. Vail offers guests and visitors alike approximately 343 miles of mountain biking trails, varying in level of difficulty and length.

With this in mind, it's no surprise that Vail hosted two years of Mountain Bike World Championships in the 1990s. Needless to say, there's plenty of options for every type of biker. Vail offers adventure, challenge, and enjoyment for families, first-timers, and experts. Read on to discover eight of our top recommendations for mountain biking trails.
Buffehr Creek Trail
If you're wanting a challenging ride that offers incredible views, then Buffehr Creek Trail is just the one for you. This 14.3-mile trail will take you straight through a grove of aspens, which means that fall is a particularly popular time to embark on this trail. Before starting off, it's important to note that Buffehr Creek Trail dead ends into the North Trail on your way down. You can easily extend your ride by adding Lost Lake Trail.

When riding Buffehr Creek Trail, you'll start by cruising up Red Sandstone Road for 2,200 vertical feet. This will continue for a couple of miles until the road forks. If you opt to head right to Lost Lake Road, this will take you to another ride called Son of Middle Creek. Meanwhile, if you head left on Red Sandstone Road, you will then proceed to drop a couple hundred verticals and cross Red Sandstone Creek. The road gently climbs over the course of the next few miles, where you can soak up the beautiful foliage surrounding you.

Eventually, you'll reach service road 734 where you'll be prompted to turn left, and go through active logging until you reach a large clearing. Approximately two miles down the road, the singletrack begins where the trail will take you through aspen groves directly across from Vail.
Radio Flyer
Radio Flyer is a famous downhill flow that put Vail's bike path on the map for many people. Built in 2012, this short two-mile course quickly leaves the ski area for the woods to the west. Here, the ride will take you down berms until you'll eventually hit the dirt road (just remember to look ahead to the corners). Upon reaching the bottom, you can easily head down either Hank's Hideaway, Liondown (Upper), or Lower Radio Flyer for more fun in the base area.
Big Mamba
Looking for a short and sweet ride? If so, then be sure to add Big Mamba to your bucket list. This three-mile trail follows a similar trajectory to Radio Flyer but offers a more natural feel and fewer jumps. Due to the rocks and roots that frequent this trail, Big Mamba requires more technical riding than Radio Flyer.

The trail starts off right under the gondola, switchbacking with nice berms. Riders will cross a handful of roads and ski runs before reaching the woods. It's here that the fun elevates to the next level. Riders will have the chance to glide through aspen groves on impressive downhill-style banked turns. After that, you'll end up on a dirt road, and finish off with Hank's Hideaway or Liondown to the base.
Two Elk Trail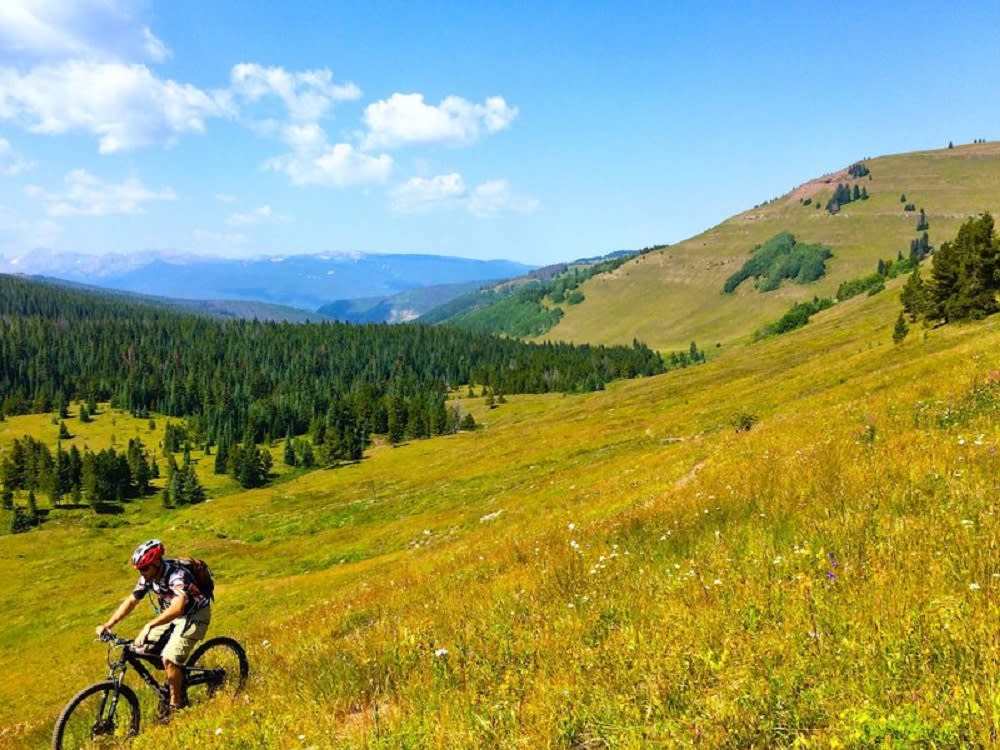 Credit: mtbproject.com

Meanwhile, if you're looking for something slightly more challenging to ride, be sure to check out Two Elk Trail. Stretched over 10 miles, this trail will take you on an exhilarating adventure across the mountains that make up the backside of Vail. Two Elk Trail is known for being a steep trail and much harder on the east end.

From the east trailhead, riders will follow the Vail Pass Recreation Path about two miles to the junction with the true Two Elk Trailhead on the right. Here, the trail drops from the recreation path to a bridge crossing the Black Gore Creek, extending into the tight Timber Creek canyon. This shady forest, located alongside the creek, is a great spot to refill with water or take in the serene ambiance. At mile 2.6, the trail makes a sharp right across a third bridge before starting the steepest canyon. From Two Elk Pass, a handful of trails diverge, enabling you to select a route that best suits you.
Cougar Ridge
Enjoy a scenic and memorable adventure when you ride Cougar Ridge. At 5.6 miles, this trail was recently rebuilt in 2020 and offers riders a new and improved experience than in years past. Starting from the Grand Traverse trail, this singletrack slowly winds down the ridge, primarily through meadow and pine forests.
The trail offers a smooth, gentle ride and down for the majority of the way to the end of the ridge, making it a great option for new riders. Upon reaching the end of the ridge, you'll find a 100-yard spur path that leads down to a rocky outcropping. Stop and soak up the stunning views that abound, including the famous Lionshead rock formation located to the right.

To continue down from here, riders will follow the trail as it quickly descends through a host of new switchbacks built by volunteer trail crews. The Lionshead rock formation provides a perfect spot to snap some photos or refuel with snacks or water. After getting back on your bike, the trail eases up and takes riders through a luscious, forested, wide singletrack. Cross the stream to reach the end of the trail.
Fred's Lunch
Rated as an intermediate link, Fred's Lunch offers riders a 2.4-mile course. This flow trail takes riders down the middle of a mountain, with plenty of fantastic views along the way. Fred's Lunch is known for being a mellow, non-technical ride, making it a popular option for those who are new to the riding scene. Additionally, this trail is not as steep as many other trails on Vail Mountain, even requiring riders to pedal at times. A newer section of the trail continues to drop riders down to Gitalong Road, with switchbacks taking you through aspens and wildflowers.

Perhaps what is most enjoyable about this trail is the inspiring views on every side. From wildflowers to breathtaking views of the Gore range, this ride is sure to impress even the most experienced rider.
Piney Lake
Located north of Vail is the Piney Lake trail, an out-and-back ride that stretches over 26.2 miles. The trail begins on a paved bikeway to Red Sandstone Road. The road climbs slowly within the first two miles on a well-maintained road. It's worth noting that at times, the road can be dusty. After traveling about 4.8 miles, the ride will ascend and veer left.

Riders will go past Lost Lake's motorized trail before heading downhill, parallel to Indian Creek. At approximately 8.6 miles, riders will keep riding past Piney Road and the Lost Lake hiking trail, where the trail will level off and descend about 2.4 miles. At this point, riders will turn right at the sign for Piney Ranch and the road will run along the Piney River for less than two miles to the lake.
Grand Traverse
Grand Traverse is one of the most popular mountain biking trails in Vail and, once you've been here, it's not hard to understand why. This trail starts from the top of the gondola and then cruises around the Game Creek bowl. Riders will then proceed through pine forests and across flower-covered ski runs while causally climbing uphill. During spring, this ride is particularly breathtaking thanks to the display of vivid wildflowers found here.

The trail then wraps around a ridge, giving you front-seat views to all of Vail's back bowls. Riders can then expect a bit more gentle climbing around the bowls, mostly in an open meadow, before a final, short climb to the top of the chairlifts. This singletrack trail spans over 5.6 miles, but there's plenty of ways to extend the trail if you're wanting a longer ride. For example, many riders follow the ridge along the top of Vail to the Outer Mongolia Bowl. Once here, you can descend by catching the dirt roads that lead back to town.

If you're looking for Vail homes for sale, contact Caroline Wagner Team today. Whether you're looking for a short-term rental or a forever home, Caroline can walk you through the process from start to finish and help you find a place that's right for you. As an expert in Vail real estate, Caroline and her team can help you find a house that truly feels like home.